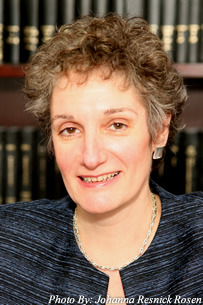 Susan Ritz
Susan Ritz has practiced in the field of employment law since 1985. She has been listed in The Best Lawyers in America from 1995 to the present, and has consistently been voted a Super Lawyer by her colleagues from 2006 to the present. She is rated AV by Martindale Hubbell and is a member of the Bar Registry of Preeminent Women Lawyers. Ms. Ritz is a fellow of the College of Labor and Employment Lawyers.
Ms. Ritz handles all forms of employment-related matters, including advising employees and partners regarding their rights, duties and entitlement to benefits; handling contract, severance agreement and partnership dispute negotiations; and representing employees and partners in negotiations, mediations, administrative proceedings, arbitrations and lawsuits encompassing a full panoply of employment-related issues, with special emphasis on claims of unlawful harassment, retaliation and employment discrimination on the basis of race, sex, national origin, age, disability, religion, marital status, sexual orientation, and other protected classes.
Ms. Ritz provides neutral mediation services, and conducts impartial internal investigations on behalf of employers into alleged discriminatory conduct. She also advises non-profits and employers on employment-related issues and represents employers in severance negotiations. She offers harassment and discrimination prevention training to management and employees.
Ms. Ritz has published articles and lectured widely, including for the National Employment Lawyers Association/NY, ALI CLE, American Law Institute|American Bar Association, Practising Law Institute, New York State Bar Association, Cornell ILR, Georgetown University Law Center Continuing Legal Education, and at CUNY School of Law. She serves as a pro bono mediator for the United States District Court for the Southern District of New York. Ms. Ritz is a member of the New York City Bar Association, the New York State Bar Association, the National Employment Lawyers Association/NY (where she served as a Board member and on the Executive Committee), and the Litigation Counsel of America. She also serves on the Advisory Board of the St. John's University School of Law Center for Labor and Employment Law.
Ms. Ritz also teaches deposition skills to the Trial Practices class at CUNY School of Law.
Before beginning her law practice, Ms. Ritz served as the law clerk to then Acting Supreme Court Justice Kristin Booth Glen. Ms. Ritz graduated cum laude from New York University School of Law, where she was a Root-Tilden Scholar and a member of the Order of the Coif. She graduated from Brown University with an Honors B.A. in Ethics and Political Philosophy.
Ms. Ritz is admitted to practice in the state and federal courts of the state of New York, the Second Circuit and the United States Supreme Court.
Speaking Engagements and Publications
Speaker on Older Workers Benefits Protection Act for Fall 2016 Employment Law Conference of National Employment Lawyers Association/NY.
Author of "The Older Workers Benefit Protection Act – Watch Out for the Landmines" and Speaker on "Age Discrimination," Practising Law Institute: Employment Discrimination Law & Litigation 2016"
Author of "Permissible and Impermissible Inquiries Under the ADA: When Can An Employer Ask For Medical Information or Require an Employee to Have a Medical Exam?" and Speaker on "Mental Disabilities in the Workplace: EEOC and Litigation Perspectives," Practising Law Institute: "Psychological Issues in Employment Law 2016"
Author of "Permissible and Impermissible Inquiries Under the ADA: When Can an Employer Ask for Medical Information or Require an Employee to Have a Medical Exam?" and Speaker on "Psychiatric and Psychological Exams of Employees," Practising Law Institute: Psychological Issues in Employment Law 2015.
Author of "Coming and Going under The ADA: When Is an Employee Entitled to a Leave of Absence and What Rules Apply to Reinstatement?" and Speaker on "Disabilities Discrimination and Accommodation Issues: "There's Only You and Me and We Just Disagree," Practising Law Institute: Employment Discrimination Law & Litigation 2015"
Supreme Court and NY Court of Appeals 2015 Roundup, New York State Bar Association Labor and Employment Law Section, July 2015, Speaker.
"Damages in Employment Cases, Maximizing and Minimizing,""Ethics and Professional Responsibility,"and "Complex Family and Medical Leave Act Issues," Annual Advanced ALI CLE Course of Study and Video Webcast on Current Developments in Employment Law, Santa Fe, New Mexico, 2014; Speaker and Author
"What's Ethical, What's Not in Employment ADR," Labor and Employment Law Section of New York State Bar Association, Fall 2014, Speaker
"Livin' on the Edge": Practice Pointers – Settlement Strategies and Logistics in Employment Discrimination Cases, Update on Recent and Potential Discrimination Statutes and Regulations, and Evolving Law of Harassment," Practising Law Institute: Employment Law and Litigation 2014, Speaker and Author
"Illness, Injury and Leave," National Employment Lawyers Association/NY Fall 2013 Conference; Speaker and Author

"Ethics and Professional Responsibility," "Retaliation and Whistleblowing," and "Complex FMLA Issues," 20th Annual Advanced ALI CLE Course of Study and Video Webcast Current Developments in Employment Law, Santa Fe, New Mexico, 2013; Speaker and Author

"Reinstatement and Returning to Work: What the ADA Has to Say" and "Excusing Employee Misconduct Based on Disability," Practising Law Institute: Employment Law and Litigation 2013, Speaker and Author

"States Immune from FMLA 'Self-Care' Discrimination Claims," ABA Labor and Employment Law Newsletter, 2012; Author

"Supreme Court Round-Up: Recent Developments in Employment Law Cases," New York City Bar Association, 2012; Speaker

"The Intersection between the FMLA and the ADA (With Some State and City Law in the Mix)," Practising Law Institute: Employment Discrimination Law and Litigation, 2012; Speaker and Author

"Deposition Strategies From the Perspective of Plaintiff's and Defendant's Counsel," 5th Annual ABA Labor and Employment Law Conference, 2011; Author

"Deposition Do's and Don'ts," 5th Annual ABA Labor and Employment Law Conference, 2011; Speaker

"Deposition Strategies From the Plaintiff's Perspective," New York County Lawyers Association, CLE Institute: How to Handle an Employment Discrimination Case, 2011; Speaker and Author

"What Every 'New' NELA/NY Lawyer Should Know: An Introduction to the Basics," 2011; Speaker

"Pregnancy Claims and Disability Discrimination Today," Practising Law Institute: Employment Discrimination Law and Litigation, 2011; Speaker and Author
"Recent Developments in Disabilities Discrimination and Litigation: State and Local Law Update," Practising Law Institute: Employment Discrimination Law and Litigation, 2010; Speaker and Author
"Post Burlington Northern Cases on Retaliation," Practising Law Institute: Employment Discrimination Claims, 2009; Speaker and Author
"Retaliation," Practising Law Institute: Employment Discrimination Claims, 2009; Speaker and Author
"Mediators' Proposals," New York State Bar Association Mediation Committee, 2009; Speaker and Author
"Valuing Emotional, Economic and Punitive Damages in Employment Cases," NELA/NY: A Seminar for Neutrals, 2008; Speaker and Author
"View From The Advocates: Do's and Don'ts When Mediating Disputes," Cornell ILR: Advocacy in Employment Mediation, 2007; Speaker and Author
"Ethics and Employment Law Issues," New York State Bar Association: Employment Law for the General Practitioner and Corporate Counselor: Current Law and Cutting-Edge Issues, 2007; Speaker and Author
"Damages in Discrimination Cases," Practising Law Institute: Litigating Employment Discrimination Claims, 2007; Speaker and Author
"Overview of Employment Discrimination Claims," The Nuts & Bolts of Representing Employees in New York, 2007; Speaker
"Disparate Impact Under the ADEA Post City of Jackson," National Employment Lawyers Association/NY Newsletter, 2007; Author
"How to Get the Most Out of Your Case While Re-injuring Your Client the Least (and How to Keep the Verdict Once It's Been Rendered)," Practicing Law Institute: Litigating Employment Discrimination Claims, 2007; Speaker and Author
"Sex, Lies and Multimillion Dollar Court Cases," The Financial Manager, 2007; Author
"Age Discrimination Update," 19th Annual Ali-ABA Course of Study for Plaintiffs' and Defendants' Bars, 2006; Speaker and Author
"Age Differential Required for a Prima Facie Case Under the ADEA," 19th Annual ALI-ABA Course of Study for Plaintiffs' and Defendants' Bars, 2006; Speaker and Author
"Update on Release Validity under OWBPA," 19th Annual ALI-ABA Course of Study for Plaintiffs' and Defendants' Bars, 2006; Speaker and Author
"Preparing the Sexual Harassment Case – The Prosecution," Practising Law Institute: Litigating Employment Discrimination & Sexual Harassment Claims, 2005; Speaker and Author
"Initial Stages of Litigation," Georgetown University Law Center Continuing Legal Education, 2004; Speaker and Author
"Dispositive Motions and Motions In Limine," NELA/NY Fall Conference on Continuing Legal Education, 2001
"What is the Judge Thinking?" NELA/NY and New York State Trial Lawyers Association: The Best of Employment Law: From Interview to Settlement With Some Ethics Thrown In, 2000; Speaker and Author
"Filing Discrimination Charges with the Equal Employment Opportunity Commission, The New York State Division of Human Rights and the New York City Commission on Human Rights," Practising Law Institute: How to Handle Your First Employment Discrimination Case, 1999; Speaker and Author
"Mediation – From the Plaintiff's Perspective," New York State Bar Association: The Effective Use of Alternative Dispute Resolution (ADR) in Employment Disputes, 1999; Speaker and Author
"Points to Consider in Counseling Clients Who Have Ongoing Sexual Harassment Issues in the Workplace," Counseling the Victim of Ongoing Sexual Harassment, 1999; Speaker and Author
"Settlement: When, How and How Much?", The American Lawyer/The National Law Journal/The New York Law Journal: Employment Litigation, Strategies and Solutions, 1998; Speaker and Author
"The Lawyer's Strategic Decision in Pursuing Federal Versus State or Local Remedies," Practising Law Institute: The Civil Rights Act of 1991 – Its Impact on Employment Discrimination, 1992; Speaker and Author
Reported Cases
Barr v. BJ's Wholesale Club, Inc., 62 A.D.3d 820 (2d Dept. 2009)
Geller v. Branic Int'l Realty Corp., 212 F.3d 734 (2d Cir. 2000)
Ciaramella v. Reader's Digest Association, 131 F.3d 320 (2d Cir. 1997)
Shane v. Tokai Bank, 1997 U.S. Dist. LEXIS 16000 (S.D.N.Y. October 15, 1997)
Wright v. Wilson Elser Moskowitz Edelman & Dicker, 1996 U.S. Dist. LEXIS 11287, 71 Fair Empl. Prac. Cas. (BNA) 902 (S.D.N.Y. August 7, 1996)
Steadman v. Sinclair, 1996 U.S. Dist. LEXIS 6619 (S.D.N.Y. May 13, 1996)
Irizarry v. 120 West 70th Owners Corp., 1986 U.S. Dist. LEXIS 22849 (S.D.N.Y. July 14, 1986)